"When we come back to invest in Vietnam, we should bring a civilized environment in which we can live, to help Vietnamese people to freely create".
Preliminary conference for 05 years of implementation of Directive 45-CT / TW of the Politburo on continuing to promote Resolution 36-CT / TW on the work of overseas Vietnamese in the new situation will take place. on November 27-28 in Hanoi, attracting nearly 400 delegates who are leaders of departments, ministries, branches and localities, chairmen of liaison associations, associations of overseas relatives and nearly 130 overseas Vietnamese. , working in Vietnam. On this occasion, VOV5 interviewed Dr. Nguyen Thanh My, who founded and co-founded 9 high-tech businesses, including 7 businesses in Tra Vinh, such as My Lan Group, or RYNAN® Holdings JSC.
Reporter: Dr. Nguyen Thanh My, during the conference did you share the story of your return, but that day back was when the Resolution 36 of the Politburo was not issued …
Dr. Nguyen Thanh My on the groundbreaking day of My Lan Chemical Company, the first high-tech company in Tra Vinh in 2004.
Dr. Nguyen Thanh My: I went back to my hometown in Tra Vinh to invest in 2004, established My Lan Group, which was the first high-tech company, since then is the only high-tech company in Tra Vinh. .
Tra Vinh in early 2004 was one of the three poorest provinces in the country.
It was very difficult to go there. Not only is the difficulty in infrastructure, traffic, or human resources, human resources, but the difficulty in discriminating domestic thinking is that overseas Vietnamese come back from overseas. Back there, people called me "the overseas Vietnamese fell well".
After the Resolution 36 of the Politburo was issued, stigmatization has gradually decreased and until now I feel that I am Vietnamese, not overseas Vietnamese anymore.
Reporter: And you also give advice to overseas Vietnamese expatriates (called overseas Vietnamese) who want to return to the country to invest or contribute, develop to the country …
Dr. Nguyen Thanh My: Overseas Vietnamese want to return to Vietnam to invest, firstly, when coming back to Vietnam, don't bring the "code" of overseas Vietnamese anymore. Here, I am Vietnamese. Why? Previously I had the problem because I kept carrying the standard in the US, in Canada where I lived to compare with Vietnam. Therefore I am angry, everything is annoying. But when I think that I am Vietnamese, it is very simple, I will use the conditions and standards of Vietnam to live, then it is very suitable for me.
Next, when returning to Vietnam, in the past, when he was born, Alan Phan said that the businessman's relationship with the community had 5 relations: "the client is the father, the shareholder is the mother, the bank is the mistress, the agency is The industry is the uncle, the competitor is the neighbor, and the employee is a petty girl. Therefore, according to what Alan Phan said, I live in Vietnam very comfortably.
Next, if you want to return to Vietnam to invest, the first thing you need to do is to have enough money, enough heart, have enough talent, enough virtue, enough intelligence to help your country, but don't come here and force the State to support. Support me one thing, agencies and departments have to support me another.
Next, we must know that Vietnamese people are very smart, just lack a civilized environment to create. When we return to Vietnam to invest, we should bring a civilized environment where we can live like the US, Canada, Germany, France, in Poland … to help Vietnamese people here freely create.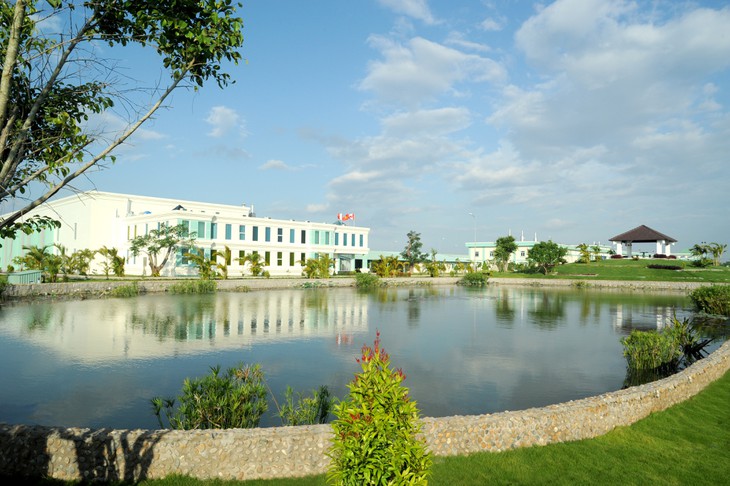 A view of one of the companies belonging to My Lan Tra Vinh Group. 
Currently, I am living in the Mekong Delta, where there is climate change and saltwater intrusion. People in the Mekong River Delta now see saline intrusion as a new resource for shrimp farming instead of building dams to grow rice, because one kilogram of shrimp is 40 times more valuable than a kilogram of rice.
Therefore, in early 2017, the Prime Minister proposed to export 10 billion dollars of shrimp money to 2025. That is a huge opportunity for foreign Vietnamese to invest, especially bringing technology 4.0, the Cloud computing technology helps our country develop.
Reporter: Up to today it can be said that you have been very successful with great contributions in Tra Vinh, as well as being a leader in high-tech companies in Vietnam …
Dr. Nguyen Thanh My: For the State Committee on Foreign Vietnamese as well as the Ministry of Foreign Affairs on Resolution 36, then fully speaking, Directive 45 is very good, is the conclusion of many years to continue the practice. Resolution 36 of the Politburo. The first days I came back were very difficult, difficult on my part because I am a Vietnamese expat, I bring overseas Vietnamese thoughts here. In the country, I have the thought that overseas Vietnamese is not good. But Resolution 36 erases all of those.
Agencies in the country as well as in my province people treat me like a very ordinary Vietnamese here. Now, I don't think I am a Vietnamese expat either, I'm 100% Vietnamese, not overseas anymore (laughs). In the past ten years, I have been investing very successfully in Vietnam. The first decisions, decisions back then on Vietnam to invest up to now are always correct.
I hope overseas Vietnamese who want to return to Vietnam to invest, this is a great opportunity in their country, especially in agriculture and fisheries.
Mr. Nguyen Thanh My was born on September 2, 1956 in Chau Thanh, Tra Vinh, graduated with a Ph.D. in Energy Science and Materials in 1990 at the Canadian National Center for Energy, Materials and Telecommunications. . He is well known in the Vietnamese scientific community abroad, with 280 patents in the United States, Canada and many countries around the world. He is also a co-author of over 68 reports published in scientific journals. major in Great Britain, Germany and the United States.
After more than 20 years living and working abroad, in 2004 he returned to Vietnam to invest and build a high-tech factory in Tra Vinh, creating jobs for local workers (currently about 800 employees). , building infrastructure, contributing to health, education …
He has also developed a strong application of high technology in agriculture, including intelligent fertilizer production, intelligent pest surveillance network combined with artificial intelligence, intelligent saltwater monitoring network, network of machines. selling smart hot meals, IoT devices such as locks, smart water meters, smart shrimp feeding machines incorporating artificial intelligence … He founded and co-founded 9 high-tech enterprises, including 7 businesses in Tra Vinh.